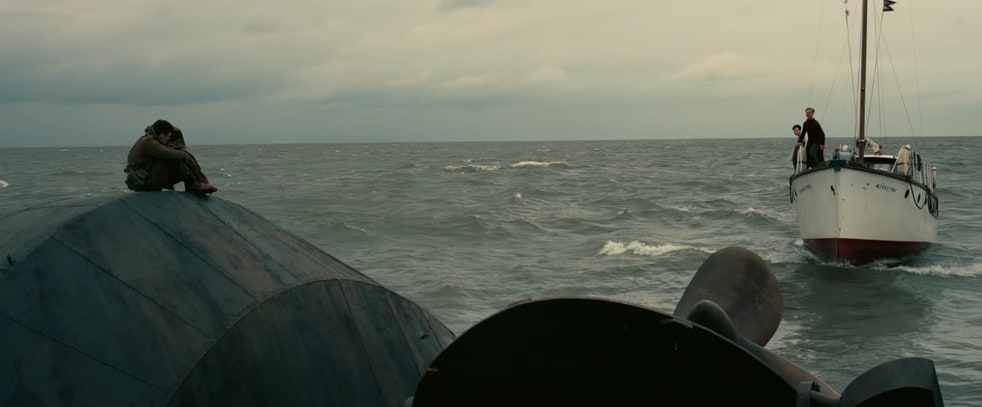 Quick review.
Dunkirk is a visual masterpiece of storytelling, unlike anything you've ever seen in recent years. We've gotten countless of films centered around World War II throughout the years, but what Christopher Nolan have achieved with Dunkirk is outstanding. He's taken a genre that have become rather formulaic over the years and shattered it completely. He breaks the formula and creates a film that should aspire other directors to follow his example. 
I see the word "immersive" being tossed around in regards to several other films every now and then, but Dunkirk is one of the few film that I truly believes deserves to be called immersive. It's fully tense experience that doesn't let hold of you until it explodes in an emotionally satisfying climax. This is all achieved with stunning visuals, perfect use of practical effects and a ticking score by Hans Zimmer that seamlessly blends in with the sound design. Dunkirk is so intense that you feel exhausted when it's over. It's a film that truly captures just how horrible and pointless war is, particularly for the people involved and that feeling translates well to the audience.
Dunkirk have opened to critical acclaim from critics, which is well-deserved. Though the film has received some criticism for its lack of character development. This is true. The film doesn't have any character development, nor does it have any stand-out characters. Usually I would agree that this is a flaw, but due to nature of how Dunkirk is and what it essentially is about, I attribute this as one of the film's strengths instead. It's a film that doesn't require characters to sit down and talk about their back stories, motivations and goals for us to be emotionally invested in them. This time around, we get emotionally invested in them because of the situation their in. We care about them simply as humans stuck in a horrible war with death all around them. The tense nature of the film wouldn't have worked if the film were to take its time and properly introduce us to each character. We do follow some characters throughout the film, but they're more like framework in this case, to base the film around them. As of such, there's very little dialogue in this film. There's very little exposition. It's a film about the event itself and the way that Nolan deconstructed the traditional formula to tell this story in a clean and visual way is something that ought to be celebrated.
One important thing to mention is the gorgeous cinematography by Hoyte Van Hoytema. The film is beautiful to look at and it deserves to be seen on the largest screen possible in order to fully get the scale and spectacle of it, but also the intimacy and claustrophobic feel the film has. Dunkirk is a masterpiece. It's a cleverly structured film that with the help of the highest level of technical craftsmanship goes beyond what you would normally expect from a war film. It's not a film for those who want character driven pieces, but for those of us who want the filmmaking itself to lure us in to an intense and emotionally rich film.